BAC 2 – Old Bristolians 4 (10/10/15)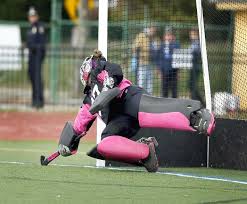 Today BAC welcomed Old Bristolians. At least we could see each other this time; the last time met we were shrouded in fog! With everyone in position we were off and a quick start by OBs meant BAC were defending straight away and conceded a short corner. BAC defended successfully and were soon attacking themselves. A break from the back saw a long ball to Emma who took the defence on with some silky moves and found the back of the net – 1-0.
The goal livened OBs up and they were soon attacking again with quick passes around the BAC defence. An incomplete clearance from the back gave possession to OBs who managed to slip it under Becky the keeper's foot to equal the score. OBs continued their attacking trend but Becky who made some spectacular saves saved BAC's blushes. Emma, Liz and Sarah battled away on the right trying to keep OBs at bay. Just before the half time whistle BAC eased the pressure from a free hit from Dave to Maz, then to Sally who crossed it to Tinny who made it 2-1.
After a rousing half time talk both teams came out win. OBs were quick to attack and won themselves a string of short corners, which were expertly defended until Cheryl managed to stop a goal with her leg and OBs won a penalty flick. BAC crossed all their fingers and toes but it didn't help 2-2.
BAC continued to attack at pace, trying to wear out OBs, Dave continued to impress with her aerial display and there were some good passing moves leading up to a mêlée in the D and BAC winning their first short of the game. A nicely taken short by Sally with a superb strike from Tinny led to the save of the season denying the goal. Straight up the other end and more shorts for OBs, Becky continued to save the day but she became outnumbered and another sneaked in 2-3. BAC continued to increase the pace and had more shots on goal; the OBs keeper played a blinder and saved them all. OBs make another drive forward and punched through the defence and struck to score another goal 2-4. BAC didn't give up and Maz continued to be awesome, they were really going for it in the last two minutes, with the last attacking move of the game BAC won a short corner which was expertly struck and how it didn't go it no-one knows, but luck wasn't on BACs side this week (we are saving it all for nest week)!
Everyone played really well this week, which was demonstrated in the 4-way tie for man of the match: in no particular order…
Sally, Liz, Becky and Tinny
Their win was toasted with pink champagne (well, it was something like that)!
BTW – Maz did get one vote for being a little bit awesome.