BAC 2 – Winscombe 5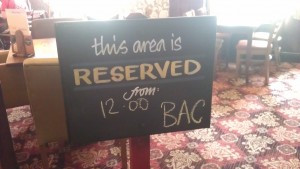 Bright and early on Saturday morning, BAC 1's assembled in the autumnal sunshine at Abbywood Community School, all raring to go, varying bits of new kit being shown off, Lor's astros may cause fitting, approach with caution! We were about to enter the sacred turf…..when Tinny realised she forgot her shorts (idiot), so Tinny and her mini raced off (speeding much?) to get said piece of kit!  It was then our 'mystery 11th' player was revealed, none other than the cider drinking, joke cracking Coxy!!!
The warm up started, we were all looking good (even a very poorly Lisa) and ready to take on the opposition.
The whistle blew and we were off, straight out of the blocks and pushing hard at Winscombes defence, their goal keeper was having none of it and when she wasn't stopping goals from Tinny, Lor and Lisa….she was creating a force field so forceful it made me fall over twice, at her feet. I missed a sitter from Tinny, although I knew nothing about it. Coxy pulled out some reverse stick skills in our D to stop Winscombe scoring. However towards the end of the 1st half we all shut down a bit and Winscombe took the opportunity to slot a goal in, 0-1.
Half time saw some old school orange quarters and a good talking to from El Capitano Lisa and Miami Vice Tinny.
We started off sluggish, Winscombe didn't and after #anotherballintothefootonpurpose from Winscombe, they were awarded a short corner, some very slick manoeuvres from them saw the ball in the back of the net. 0-2. They kept the pressure up and pushed and pushed and pushed…..then Becky decided that she fancied using the other side of her stick to stop a goal *rolls eyes* a penalty flick was awarded, their penalty taker was no match for super cool and calm Becky who calmly stopped the ball from going in and kicked it away!!!!!!! Phew!!  
So with us fired up we went on the attack some cracking midfield play saw the ball passed to Lisa, who crossed the ball into me, and I slammed it in the goal!! (it was awesome) 1-2. Annoyingly Winscombe battled (literally pushed us out the way) through and did the same trick as before and another short corner was awarded, 1-3. We carried on fighting, a cracking pass from Tapper to Bish to Tinny, saw Tinny one on one with the keeper, she smashes it in, but the keeper used her witch craft and stopped it! Another run on goal from Tinny saw her smack it in 'ping' went the post. Liz tried running in and having a go, but the defence took it off her, then Lisa received a great pass from the midfield went to strike it, but found Lor hiding behind her!! It was not going to plan. Then with some great play by all, we got a short corner, with a peach of a pass out from Lor to Tinny, Tinny struck it hard, the keeper passed it back, Tinny struck again and BOOM goal time!! 2-3. Unfortunately despite the pressure we were putting on them, Winscombes short corner tactics were too good, 2 more goals from them saw the final score BAC 2 – Winscombe 5.
After a quick shower, a quick sausage, a trip back to the pitch to watch the 2's and a visit to the charity shop we finally made our man of the match announcement. 3rd place Liz & Coxy, 2nd Place Bish and 1st Place BECKY!! Who was delighted with her special tea pot prize.
In other news, Bish was hit on the knuckle during the game, and the bruise come out the other side. Weird. We also met Nicky Tanner, he used to play for Bristol Rovers and Liverpool, he said he may sponsor us, I don't know if he will remember. You can see that meeting him delighted Hammy!! Bish and I were also delighted.
Next stop Weston-Super-Mare….