Bristol Ladies 2 – BAC2 3 24/09/16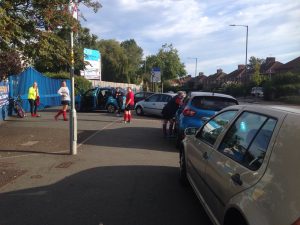 The morning started with us being locked out of the Orchard School. It was a fine sight to see all of BAC arriving an hour before the match (well actually 1 hr 15 mins because Ceri got the time wrong).
The first game of the season and the sun was shining. We welcomed Emily to the team for her first match and were thrilled to welcome Beezey back along with her new family.
BAC dominated play in the first 15 minutes of the game. Our forwards were looking strong. Yet it wasn't until we were awarded 3 consecutive short corners that we managed to get our first goal. Leanne smashed the ball past the keeper with a classic penalty fed in by Lor.
Shortly after this Bristol were awarded their first penalty corner. They failed to match us thanks to an amazing save from Gemma.
Bristol were strong for the rest of the half with a near miss and another excellent save from Gemma.
The half time whistle went with BAC2 leading 1-0
Shortly in to the second half Leanne smashed yet another short corner in. Bristol 0 – BAC 2.
Bristol, under pressure, fought back making  our defence work hard. BAC midfield worked relentlessly  to support our defence, preventing Bristol from getting on the scoreboard.
A series of short corners from Bristol resulted in a goal which was soon followed up by another. Bristol 2 – BAC 2
With time running out, we upped our game. Ellie fought like a complete legend in midfield, allowing our forwards to continue to pile on the pressure. A brilliant pass from Emily to the top of the D resulted in an unfortunate miss, but Bristol knew they were in trouble.
Soon after, Darcy set up Lor with an amazing pass and Lor punished the Bristol defence for their mistakes with an amazing final goal.
Bristol 2 – BAC2 3.
A nail biting match to watch. A fantastic performance from a united team. It was great to see the experienced players supporting the team in what was a well deserved win.