Lansdown 3 v BAC 2 (28/11/15)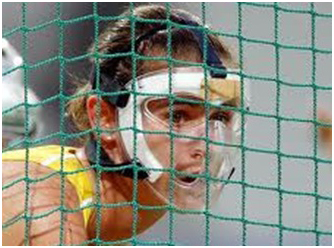 Another stormy match for BAC 1s this week… Saturday's elements – torrential rain.  We travelled to Cheltenham for our final league fixture before Christmas against Lansdown who realised early on that we'd poached their red jackets after admiring them at the same game last year… Ours have squad numbers though, miles better!
After a team talk in the comfortable heat of the changing room, the team welcomed Siobhan and headed outside to warm up and cool down at the same time.
BAC came out strong, on the attack right from the start with Cheryl and Lisa on the side line pushing us on. Unjaded by the elements we managed to win an early penalty corner within the first 10 minutes and a straight strike from Tinny clinched us an early lead.
0-1
Lansdown's response caught us off guard, five minutes later and two great goals – one from a penalty corner and one lifted deflection on the post. The tables had turned.
2-1
BAC continued to attack with great play down both wings resulting in lots of shots on goal.  We were really unlucky not to get another goal before half time.  A final quick break from Lansdown put them 3-1 up as the whistle blew.
A spirited half time team talk gave the team a boost for the second half.  Lansdown managed to win an early penalty corner which was denied by Katie Wooller's face, thankfully her face mask took the brunt of the impact.  A beautiful play down the left through to Sledger, Siobhan and a base line pass from Lisa found Tinny on the P Spot and awarded BAC their second goal.
3-2
The match ended with a 3-2 loss to BAC.  The team showed heart and fought from start to finish, the end score does not reflect the play of the game.  BAC were really unlucky not to have slipped more goals passed the goalie, our attack threw everything at the Lansdown keeper who pulled off some great saves.
2x goals – Tinny
MOTM
1st – Lisa
2nd – Siobhan
3rd – Sledger
4th – Sarah G, Liz, Bish, Tinny