BAC 1 Newent2 3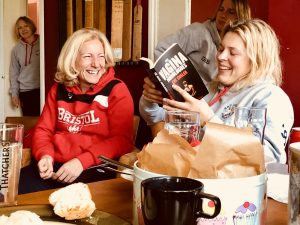 Written by: Katie-Woolly-Pulley-Kersley-Wooller-Curly-Wurley
With Brian on the way, BAC tipped up nice and early to Abbeywood (with the except of the Lisas) and braced themselves for the incoming storm. 
Warm up and team talks duly completed, the focussed preparations seemed to be paying off. BAC exerted early pressure and, after a couple of swift attacks, BAC took the lead. Liz took a free hit near the 25, passed it on to Bish, who slipped the ball through to Tinny in the D. Tinny took a touch and found the back of the net to make it 1-0 to BAC.
The solid start continued for the remainder of the first 10 minutes, before Newent found their way into the game. A deflection from a BAC stick took a shot/cross out of Becky's reach and seemingly away from goal, before a Newent player snuck in at the far post to slot the ball home and make it 1-1.
It was at this point that Brownie decided to have a little "rest" on the side-lines….We regrouped well and had a few chances towards the end of the half, including some near misses at short corners and a flick.
The score remained level at half time and we knew we needed to up our game in the second half. Unfortunately though it was Newent who scored next, with a deflected finish from a short corner.
BAC counter attacked, with some neat interplay between Liz, Red, Tinny and Deb, but in this occasion were unable to finish these chances. Towards the end of the game, Newent won a short corner and Dave was sent packing to the half way line after breaking early. A well placed strike on the ensuing re-take resulted in a third goal for Newent and, despite a late flurry of attacks from BAC, the score remained 3-1 at the final whistle.
It wasn't BAC's day but we will bounce back and come back stronger. 
In other news:
According to our beautiful spectator extraordinaire Sally Curnow, Storm Brian turned out to be "just a bit of wind"

Not only did Newent have a "Dave" on their team, they also had a "Browner". What are the chances?!

Our Dave picked up an injury….RIP Dave's toenail

According to a superstitious bunch at teas, the loss was down to a few changes to the usual routine….where the cars were parked, change of ends, how Brownie put her shin pads on etc. Does this mean that I can now return to being late and say that it is for the good of the team, as I am keeping to the tried and tested?! 

Kingers and Bish treated us to a bedtime story from Bish's player of the match prize. It was extremely educational for us all! 
Player of the Match
1st Bish
2nd WP and Cheryl
3rd Dave, The Sledgend, Becky and Red
4th Sally