Old Bristolians 2 – BAC 3 (15/11/14)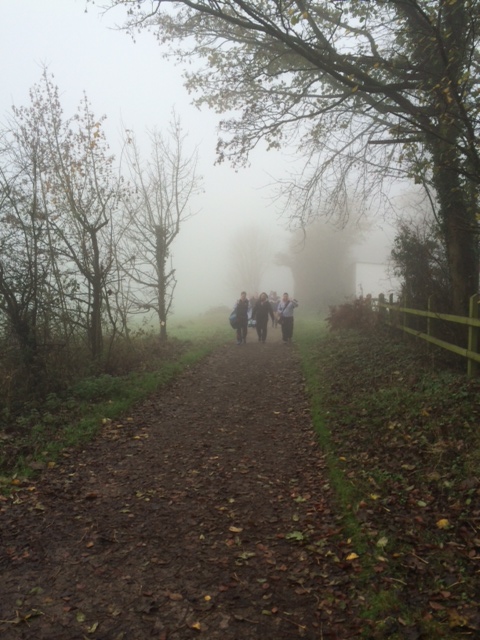 Match Report Written By: Liz 'Steely' Gaze
Having just about dried off from the monsoon conditions of last week, this week BAC were faced with the challenge of finding the Old B's pitch in the fog. A game in progress could be heard but only seen from about 10 meters away. Due to the weather, the games were running behind time so a short cross country run and a few taps of the ball later and we were off.
Tinny was either feeling in a generous mood or was making sure everyone was awake right from the start, as a short passback allowed Old Bs a run on goal. Nothing came of it and we'll let her off for her excellence later on! Old Bs started strongly but BAC withstood the pressure, found their form and started pressing forwards. Midway through the half, BAC broke the play down in midfield and Sledger went on a mazey run up the right, crossed the ball to Tinny who slammed it against the backboard. 0 – 1 to BAC. Very shortly after, Lisa showed some silky skills and managed to cross the ball to Tinny who sweetly struck it in for goal number 2. Meanwhile, at the back, BAC were doing some stoic defending and had been working on their passing round the back with good success. Half time 0 – 2 BAC.
After a rousing team talk to keep up the momentum, BAC somewhat fell apart and one 'round the back' too many lead to an Old B short from which they scored. With BAC still looking a little ragged, Old Bs scored again to level the match 2-2. BAC, eager not to let this one slip by, regained some composure and pressed forward again. Several forays forward lead to BAC shorts but with no success. After becoming tangled with an Old Bs player, Emma earned herself some grazed knees, a chat with the umpire and a green card and shortly after Cheryl's commitment to defending also lead to a green. Becky pulled off some amazing saves, topped off by a headed (yes headed!) clearance from Cheryl's attempt on her own goal. At the other end, Tinny got the ball in the net for the third time, but all she achieved was a massive bruise as it was rightfully disallowed for being deflected in off her knee. With a few minutes to go Emma broke up the right wing and rounded some defenders in the D. Those at the back waited in suspense as they peered through the fog to try to see what had happened to the ball. Raised arms from the forwards indicted that Emma was successful and had slipped the ball into the back of the net. Some good possession play for the last couple of minutes meant that BAC came out winners 2-3.
Relieved and starving due to the lunchtime kickoff, BAC were grateful of the warm teas, but not so grateful for the cold changing room!
Comment of the day: Whilst Cheryl was prepping for the game rubbing cream on her upper hamstring Becky commented 'Isn't that supposed to be used internally!'
Man of the match:
3rd – Bish, Cheryl, Sally
2nd – Sledger
1st – Tinny & Becky
Katy "We should give reasons for why people win"
Cheryl "She scored some (Tinny), she saved some (Becky)"
Next adventure… Bubble football!!