BAC 1 – Wootton Bassett 4 (25/01/14)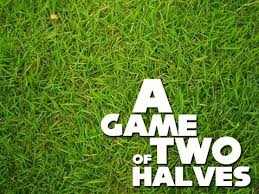 Written By: Tinny
This week saw a home game against Royal Wootton Bassett.  The '2 non blondes' decided the only way to get to the pitch on time was to travel seperatly….one (El Capitano) managed it….the other did not!!  As kick off approached, the clouds disappeared and the sun came out to leave a shine across the pitch – meaning no-one could really see!
10 minutes into the game and BAC had established a good hold on the game, pressing RWB and winning a flurry of short corners.  Unfortunately none were able to be converted, despite Bish coming close to a rocket pass from Tinny.
Then some great passing in mid-field lead to a pass from Sledger to Tinny, who one on one with the keeper forced her down early, took the ball around her and was able to find the shot to take the ball through 3 RWB defenders and into the goal, assisted by a great jump out of the way by Bish helping it through!
RWB started forcing their way back into the game, stretching the BAC midfield and defence.  A break in the D provided them with a short, which despite being well taken was stopped by the full stretch dive from Becky.  Half time 1-0.
And that's where BAC stayed for the next 35 minutes!!  RWB came out for the start of the 2nd half quicker than a greyhound out of the traps.  They suddenly were running the match; short passing all over the pitch soon saw the goal line change to 1-1.  Captain Lisa wasn't having any of it, taking the ball on a solo run, past RWB defenders, passed into the D but was intercepted by the RWB defence.  They moved the ball quickly past the retreating BAC midfield and defence and we found ourselves 1-2 down.
A period of messy play then followed as BAC tried to disrupt the RWB play, shorts at both ends were unconverted, until a well worked piece of play lead to another RWB goal.  1-3. Frustration kicked in as a long ball found Sally unmarked, but RWB were quick to put the pressure on with 2 defenders hustling (sandwiching) for the ball, there was only 1 outcome – Sally launching her stick Javelin style across the pitch!
RWB scored a late 4th goal, leaving BAC wondering what did happen at half time??
MOTM went to Bish for her sterling efforts in the middle (back, forward, left and right!!)
Lessons learnt:
1: Prepare to play for 70 mins not just the first 35
2: Lip Tattoo's do not come off easily and will make your lips sore and flakey!
3: RWB do not share cake!