Match Report ~ Wootton Bassett 3 – 3 BAC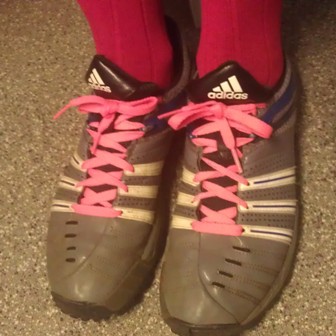 This weekend saw BAC visit Royal Wootton Bassett.  The day started well as we left the showers behind in Bristol and welcomed some sunshine. Tapper thought she could dazzle the opposition with shiny new laces (her old ones were boring apparently). The warm up nearly ended up as a punch-up when Lisa told Ali she was a dog (something to do with high pitched squeaky voices). Least we had an upgrade on the changing room front! 
Well, the match was a classic example of a game of two halves. BAC started slowly, sort of in slow motion at times. WB kept breaking through the defence and before we knew it BAC were 2-1 down. This was not without incident – goalie Bekki took repeated shots to the pads before the inevitable first goal was scored. Cheryl threw herself to the ground after the second WB goal and nearly knocked herself out. WB stopped a ball on the line with their foot and a penalty flick was awarded which captain Tinny ably put away.
The second half saw a different BAC team emerge with a lot more fighting spirit. So much so that Sally and Tapper received green cards for their rather exuberant tackles. BAC won plenty of short corners but were unable to take advantage of them.  Goalie Bekki appeared to faint on the ball as she slipped whilst trying to clear, and nearly break her neck while trying out her new head first diving technique! Things began to look bad as WB broke through again and scored to make it 3-1, but seven minutes from the final whistle Tinny made a reverse flick shot on goal to make it 3-2.  Hopes were raised and finally the equaliser came 30 seconds from the end with a shot from Tinny that saw the keeper wrong footed and in some pain after the ball ricocheted off her only unpadded part of her leg.  BAC managed to keep their composure for the last few seconds to hold on for the draw.
This week's man of the match went to Tinny and her hat-trick with Bish in second place for her sterling work in defence. This week saw Katie's one-year anniversary playing for the 1st team but she still couldn't manage to remember the right kit so she deservedly won the booby prize!