Daily Archives:
November 12, 2012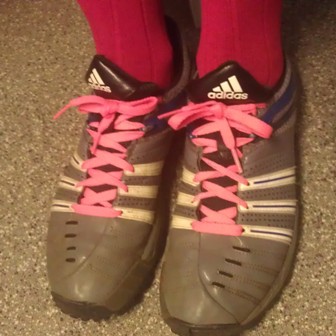 This weekend saw BAC visit Royal Wootton Bassett.  The day started well as we left the showers behind in Bristol and welcomed some sunshine. Tapper thought she could dazzle the opposition with shiny new laces (her old ones were boring apparently). The warm up nearly ended up as a punch-up when Lisa told Ali she was a dog (something to do with high pitched squeaky voices). Least we had an upgrade on the changing room front! 

It was early morning, the pitch was quiet, calm and dimly lit as the sun struggled to push through the thick, slow clouds. The morning dew barely able to glisten.  In the car park 3 figures stood patiently, hands in pockets, shuffling from side to side in an attempt to evade the cold air which surrounded them.
The peace was broken by a car slowly entering the car park.  It pulled into a bay and stopped, it's driver was reluctant to emerge into the grayness.   She meekly opened the door, turned side on and whilst still seated placed her feet on the ground. This solitary figure clung to her hot takeaway drink seeking some comfort from the early chill and an inner pain.  The weary maiden's sigh was the only sound and attracted the 3 figures yards away. They approached the lonely girl and uttered the gentle words….