Match Report ~ Westberries 3rds 3 – 3 BAC 2nds 03/11/12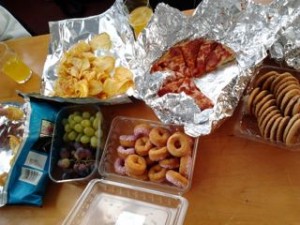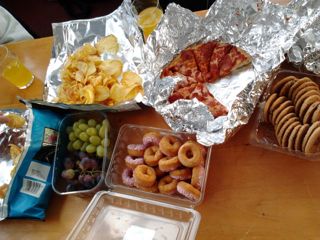 A brisk morning in Westbury and the BAC second team assembled good and early, our opponents were nowhere to be seen.  There was an early team buzz from news of a BAC 1st team win which was heightened by the arrival of Sophie the second team captain and cheerleader on crutches!
With the appearance of the competition the mood changed, there was a definite feeling that we could win this game.  The warm-up run complete Carrie suggested the team move on with some "stretches and jumpy things".A final pep talk from Ceri and Sophie kept the spirits high and with a blow of the whistle it was game on and…………a surprisingly sluggish start.
Sophie decided to wake the players and Wales with some directions and a fast break from BAC2 saw us push into the Westberries half and stay there piling on the pressure.  It wasn't long before Westberries went down but sadly not in goals, one of their players took a thump on the hand and play was stopped whilst an ice pack was applied.
A regrouped Westberries came back fighting hard, perhaps we made them angry.  They pushed us back and won a short corner, which they wasted and BAC2 were quickly on the attack again.
BAC2 also wasted a short corner only to be awarded a 2nd corner which again we wasted.  We weren't going to be pushed back, and out of nowhere we scored a goal.  The team hardly celebrated and there was confusion among the supporters thinking it was possibly a Westberries own goal, we later learnt that Ali scored the goal and so here is the belated cheer for Ali from this supporter, "Yay!"
Within seconds Westberries had their angry faces on again and were pushing us back into our own D.  A superb cross by Westberries which was flicked up to waist height from a second player was then deflected in by a third!  There was nothing Kay in goal could have done to save it.  Either this was a stunning set play expertly executed or a great sequence of hit and hopes, everyone stood stunned for a second before the whistle confirmed it was now 1-1.
Westberries had confidence now and were again on the offensive keeping us back.  Some scrappy play around our D and we seemed incapable of getting the ball clear, the second Westberries goal was inevitable. 2-1.
With a minute to go before half time BAC2 pushed hard and won a short. It was taken well, went straight past the goalie and slammed into the backboard, the crowd cheered but the goal was then disallowed for being struck outside the D. Still piling on the pressure Ned took a long run and great shot at goal which the goalie couldn't respond to, sadly it was slightly wide and the half time whistle blew.  2-1 the half time score.
Following drinks and a briefing from Sophie and Ceri along with a general round of team feedback it was back on for 35 more minutes of great BAC2 action. Both teams came back strong from the break and BAC2 were much more vocal on the pitch.  A period of Westberries domination followed and the defenders Coxy, Jo, Fran and Spicer had to work hard, BAC2 had a fast break opportunity and a shot at goal, it came close but no equaliser.
After taking possession from Westberries BAC2 were on another fast break attack, Ned took the ball to the left of the D, she made a strong cross into space with 2 waiting BAC2 attackers lined up, both swung late for the ball and missed.
Still in the Westberries half a short to BAC2 was wasted, followed by another and another and another and then we had a 5th short.  To the cry from the sidelines of "COME ON GIRLS, 5TH TIME LUCKY" the crowd (all 4 of us) were able to cheer GOOOAAAAL as Ned smacked home the equaliser. 2-2.
Suddenly it was all about BAC2 and the girls were rejuvenated. A hard smack to the leg for the injury magnet Westberries player saw the play stop for a moment, then a ball to the face of Beezy stopped play for a briefer moment.  Beezy showed the opposition how to take a knock, with a quick swig of water back on she went, none of this ice pack nonsense and "ooh my leg".
Long ball up the field to Ali saw her clear of the Westberries defense and rapidly closing on the goal with just the keeper to beat, sadly the keeper closed the gap and saved the shot.
It was at this point that many experienced male players for the next match on pitch were arriving and starting to watch the game.  Whilst BAC2 player Lucie was benched for having a diseased ring (Lymes disease, look it up), she didn't waste the opportunity to advance her hockey knowledge and ask these experienced players questions such as "Do you often get groin strains?"
A moment later and it seemed all of BAC2 were on the attack in the Westberries D and it was Ali who knocked in goal number 3 with just 5 minutes to go. Score 2-3. Westberries learnt from our "tactic" and seemed to throw everyone into our D and there were furious shots at goal and some desperate attempts at clearance. After an intense exchange Westberries got their 3rd goal with just 2 minutes left.
Both teams looked nervous with the end to end play which followed but both found an extra gear and gave all they had in an attempt to snatch a win.  2 minutes elapsed and the final score was 3-3. It was a great game, both teams played well and also missed opportunities, the draw was a fair result.
Later at teas Carrie was voted man of the match with Hammy runner up.  The food (which was unceremoniously "placed" on the table) consisted of some pizza, crisps and pink bumholes for dessert. Picture to be posted here later.