BAC v Yate (24/01/20) 4-2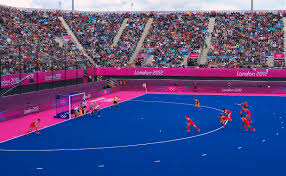 This was our first home game after Christmas and after a great game last week we were ready for the challenge of taking on Yate. Our first challenge was finding the match ball, once that was overcome Yate came out strong with some great attacking play but BAC defence held them off. We had a couple of early breaks and secured our first short corner of the game. A great strike from Emzy landed BAC our first goal of the match and lifted us all up for the rest of the game. Yate returned with more attacking play and multiple short corners, all of which the BAC defence held off and Wooller took one for the team with a cracking ball to her hand. BAC secured a second short corner and had a perfect repeat of the first with Emzy scoring with another great strike. For the whole of the first half the BAC work rate was incredible with great team play and defensive work holding our 2-0 lead into half time.
After a great half time talk from Darren we were ready for the second half. Yate came out strong again and scored their first goal from a short corner. Things were getting heated now and we saw the first green card of the match for Emzy's over enthusiastic tackles. Yate came back again and scored their second goal, a top corner deflection from the left post. BAC kept their heads and another round of strong team play and effort saw Tinny land us our third goal. With ten minutes to go and up 3-2 the side line stress levels were sky high and Chief Cheer Sally asked Tinny if she could score another goal to make it easier to watch. Never one to disappoint, Tinny found herself in a position with 4 defenders and the goalie between her and the goal and with amazing skill beat all of them and with a reverse stick strike scored BAC's fourth goal.
With only a few minutes left on the clock we saw our second green card of the match as Brownie was taken off for BAC players deliberately breaking up play. We all held our breath as Yate came on with more attacking play but BAC defence held them off to the end, finishing with the final score 4-2.
Our great game was followed by even greater teas with Maz providing pulled pork baps and Ruth's calorie free cakes went down a treat. Even Holly managed to make it in the end. It was a great effort and a great piece of team play today from BAC – bring on next week!
MOTM Holly
2nd Tinny