Yate 2 v BAC (30/03/19) Won 4-2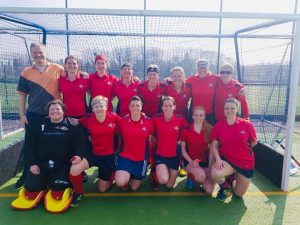 BAC were at home for the last game of the season, it was a must win game if we were to finish the league in second place!
We started the game with a lot of pressure and forcing a full press on the Yate ladies getting a few chances on goal and winning a number of penalty corners. Red went down after getting hit in the throat by the defender's stick (she can no longer sing Simply Red with Cheryl but the Bee Gees with Bish)
Yate then had a moment of attack scoring the first goal of the game! They also had a few penalty corners which were very well defended, and had 2 goals disallowed due to a back of the stick and the goal coming off the attacker's foot.
BAC then came back to attack with an awesome run by Tinny who passed the ball into the D where Sledge was ready to score – Halftime 1-1!
The second half saw more goals from BAC; Cheryl intercepted Yates 16 hit out, passed to Tinny and then onto Sledge for our second goal.
Another lovely passage of play from BAC an initial shot on goal was deflected which Red received back and scored.
Cheryl went down from a hard tackle with the Yate defender, who then went onto take Sally out too!
BAC's final goal started from a great ball from Bish to Red (Reds mums' words "Emily's flying interception"), Red then ran the ball to the top of the D and took a strike on goal, Tinny was there to finish the business and get us our fourth and final goal.
Becky then decided she wanted to finish the game by giving Yate a goal claiming it by shouting "MINE!" Final score 4-2.
Overall a fun game with lots of great movement and passing, not forgetting Maz received a "Paul Hollywood handshake" in the form of a clap from Andy for an awesome tackle.
BAC finish the season in SECOND PLACE!!!!!!!!
Player of the Match
1st- Sledger
2nd – Tinny
3rd – Maz and Red