BAC 4 – Hereford 4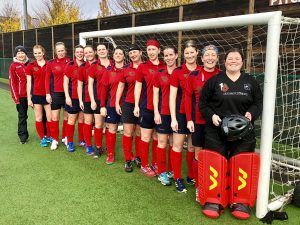 Written By – Joint effort between Liz & Sally
This week we were playing top of the table contender Hereford! Everyone was raring to go, especially Sally as it was her first game back after 7 weeks (this is what you get for not writing match reports, I will write it and it will be all about me.)
As it was Remembrance Weekend BAC wore their poppies for kits with pride and both teams showed their respect with a 2 min silence.
The game started and BAC were off, despite the down pouring of rain. Attacking well and many chances made, just not converted to goals. Hereford hit back (at points sometime literally) and made some breaks which saw us 0-2 down. Highlights of these 10 mins was the subbing on of Sally. The crowd (Tinny's Mum and Reds Fam) went wild (didn't notice).
Not to be defeated, or squashed (at points literally) BAC hi back, a side-line ball to Tinny, who reversed it into the D, saw Deb clear it up and score! BOOM 1-2.
Sadly this encouraged Hereford who then charged at us, and scored a breakaway goal. 1 – 3.
However, despite being a little battered, somewhat dazed BAC continued to attack, and Tinny picked the ball up in the middle, used some silky skills and smased in a goal. 2-3.
Half Time
Half time team talk was a rousing encouraging affair, which included Prossecco Jellies.
Tinny said to go out and keep hold of the ball. The 2nd half whistle blew, we lost the ball there was some ping pong (or table tennis as Dave would say) in the D and Herford scored. 2-4 WE HAD ONE JOB!
Anyway, we fought back and put Hereford under pressure. We were awarded a short, which we missed on the first strike, but Kingers picked it up crossed to Tinny who dived/fell and revered hit the ball into the goal! GOAL TIME! 3-4
Then lots of things happened, most importantly Sally's tendon did not snap as she tracked back to stop the Hereford player's attacking run, she also got the ball off of her. Much to the delight of the crowd (a subbed Cheryl).
Then poor Maz got a ball, from about 3ft straight into the throat. This made us all a little mad, and Maz's stress face was very stressed. We played on keeping them out of the D, and stopping any chances. Becky then saved a short corner with the help of Cheryl's head, thankfully for all….Cheryl was wearing a mask.
BAC decided enough was enough and attacked back, only we did it in the hockey sense of the word. Won a short corner in the final minuets, which was a pass out to Tinny, who struck, it got deflected out and then smashed it home, with the help of a defender. 4-4.
Great result seeing we didn't have Lizzie G due to injury and we were playing the then top of the table. So…all in all we will take that point.
Saddest moment – Sally & Bish realising we'd drawn the match and not won as they both thought.
Bring on the next game.
MOTM
1st WP
(I can't remember the rest, will add when I have looked at my book).