BAC 2 – Royal Wootton Bassett 5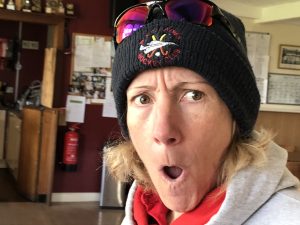 Written By: Browner
This week BAC 1s played Wootton Bassett at home in the last league match before the Christmas break.  We had a unpredictable start with Doug getting stuck in traffic meaning that we had to ask to delay the game by 15 mins (thanks WB).  After our 15 mins grace and with no sign of Doug, our umpire-supremo Sally volunteered as tribute to don the whistle and umpire the game until Doug arrived.  Sal's moment in the spot-light lasted FOUR MINUTES, and they were our greatest 4 minutes… seriously.  BAC showed some great linked play in those first 4 minutes, I'm told the entire team set up our first goal – Dave to Maz, to Cheryl, to Liz, to Sledger, to Tinny and then finished at the left post by Brownie.  1-0.
Doug arrived, possible a bad omen, we'll never know.  But before you know it WB have responded quickly to being 1-0 down and have sent 2 goals over the line.  1-2.
Sledger managed to get us back to an even footing before the half time whistle, after a scramble in the D which a WB defender stopped as it went over the line.  2-2.
We don't need to go into much detail on the second half, in fact we're doing our best to just forget about it.  It's behind us now.  WB scored 4 goals.  Final score 2-6.  Bish fought hard to move the ball around, trying to get us back to playing like a team but for some reason our passes weren't coming together and we lost the composure we've worked hard on in previous games.
Hi-lights of the day (and night):
Bish did a haka-style war cry

Dave (!) made a player cry

Brownie fell over the goalie in slow motion (like a slug)

Kingers took a ball to the throat (pun intended)

Tinny needs a new birthday stick

Becky bum-shuffled through the kitchen hatch in the cricket club and we all had amazing food and too many drinks at The Ox to celebrate Tinny's birthday.
It's disappointing to end the first half of the season with a loss but like I said, we're putting it behind us.  ERASED. GOODBYE. DONE.
SEE YOU IN 2018.
MOM-
1st – Bish
2nd – Sledger and Brownie
3rd – Sally, Kingers, Cheryl, Maz.