BAC 0 – Cirencester 7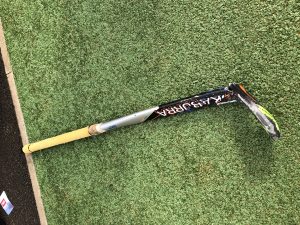 Written By: Sledger
Are you sitting comfortably, then I shall begin.
For the benefit of Bish…….…Once upon a time there was a ladies hockey team called BAC and they played in red.  On a drizzly morning at Abbeywood our opponents this week were Cirencester.
We were feeling confident on the back of our performances from the previous two weeks but we knew it was going to be a tough encounter.
BAC made a fairly decent start but Cirencester got the break through within the first 15 minutes and we went a goal down, 0-1.  It went a tad downhill from there!  As the half went on we soaked up more and more pressure.  Cirencester passed and moved the ball well and I think it's fair to say that we couldn't contain our opponents as we conceded a further 5 goals. Half time 0-6.
The half time team talk was a positive one and we weren't going to let our heads go down despite the score line.  BAC came out with more fight and determination in the second half with attacks down the right and through the middle.  We created chances and were awarded short corners but unfortunately we couldn't reduce the goal deficit.
Cirencester were back on the attack and added one more to their total with a goal from open play.  Although screaming for a decision and waving your arms in the air doesn't get you anywhere!
We continued to soak up pressure but our defence held firm through a flurry of attacks and short corners.  If it wasn't for the cracking saves by Becky the Bullet, a goal line clearance from Maz and great defensive work from Cheryl the score line could have been more.  The final score 0-7.  Everyone worked hard in true BAC spirit and we didn't give up.  It was a much improved 2nd half performance and this was kindly recognised by our opponents.  Onwards and upwards to next week's game.
If losing isn't bad enough, then to find someone sitting in your spot in the changing room is a kick in the teeth…..arghhhhh!!!!!
Cirencester had told us they weren't coming back for teas but they probably wished they had as we had pulled pork rolls, apple sauce, coleslaw YUM YUM!
Player of the match this week:
3rd place:              Liz G, Sledger and Maz
2nd place:             Cheryl
1st place:              Becky the Bullet