W-S-M 4 – BAC 6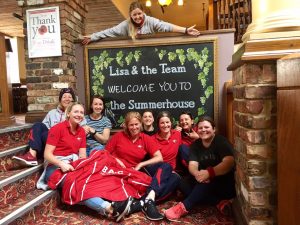 Written By – Tinny Oliver
'We do like to be beside the Seaside'
This week we took a drive to sunny Weston-Super-Mare for the last friendly before the league starts. 
With a livelier than usual warm up – the Backstreet Boys and Tupac spurring us all on, we made a good start to the game.  Keeping possession and spreading the ball around, we soon found ourselves 1-0 up, goal courtesy of Tinny.
Following some more cracking attacking play by Liz, Red and Lisa B, we soon had another goal, 2-0, Tinny again.
Bex, Cher and Maz were mopping up everything W-S-M could throw at the defence, the midfield of Bish, Sally and Dave ran their socks off (and Sally's buttock!!) up and down the flanks, letting the forwards enjoy some goal time.  Until W-S-M scored.  2-1.
Half Time
We came out for the 2nd half somewhere slower than we started the 1st!  Lots happened, but I'm not sure the order, so this maybe a complete fabrication, but here goes…….Some sluggish play and a bit of chaos led to W-S-M scoring a couple of quick goals, despite Bex's incredible efforts in goal, BAC found ourselves 2-3 down and chasing the game.  W-S-M continued to press the game and another goal meant 2-4.  With Sally hobbling around, a slight tweak to the team was made with 10 mins to go.  This found Kingers on the left side of the pitch – and after the game many were asking the question 'Why has she not played on the left before?'  BAC suddenly woke up and started fighting again (not literally, obvs).  Back to quick passing from the back to the midfield and to the front saw the start of the BAC comeback, 3-4, Lisa B expertly finding the backboard.
We carried on playing amazing hockey, quick passing and with moving both on and off the ball, we won a short corner, which was expertly taken, and……another goal, Tinny for the hat-trick, 4-4. 
BAC didn't want to stop now.  And it was soon 5-4, with some play between the midfield to Red, to Tinny and back to Red….BOOOOOM, GOOOOAAAAALLLLL!!!!!
With a few minutes left on the clock another quick break saw Liz pick the ball up, she passed to Kingers, who took on a player or 2, who passed it to Red, who passed to Tinny……GOAL TIME, 6-4. 
A last frantic minute of Tinny screaming keep possession at a BAC hit out (Cher, I still won't mention it!!), saw W-S-M intercept the pass, drive to goal and, thankfully for us, shoot wide.  The final pass from the hit out saw the final whistle go and it was game, set, match to BAC.
Other high points included:  the umpire looking like he would leave at any moment to attend to an RTC in his high vis vest, the other umpire had a weird sounding whistle circa 1885 which he 'had to blow…..blow it hard', a player running face first into Maz, leaving, Maz spinning round and stress faced…..but the ump asked the other girl if was ok, Becky getting shoved but it wasn't a foul, despite it continually happening. Emily had her nickname confirmed of Red the Fraggle – but Red for short. The showers were only suitable for people of Bex's height and smaller. Oh oh and Maz doesn't open her legs wide enough – at short corners!!
Lisa B kindly took us to 'her' pub for fried teas and Tinny met a man…..
MOTM:
1st – Tinny
2nd – Info coming soon my book is at home!
3rd – Info coming soon my book is at home!