BAC 4 – Westberries3 2 24/09/16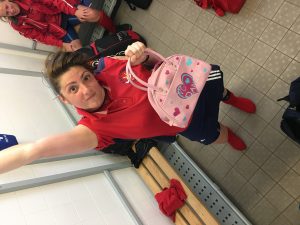 So, here we are at the start of a new season and a new league for BAC. Our pre-season training had gone really well and it was time to put the theory and training drills into practice.
We welcomed Westberries to Abbeywood on a bright and breezy morning. Everyone was happy and high-spirited and after a much focused warm up meant we were ready to rock.
BAC started well with solid play all over the pitch. A BAC break through the middle led to a series of beautiful one twos between Sledger and Tinny. Sledger then spread the play wide to Kingers who fired the ball across the D. The ball was met by Liz who finished off the move nicely by scoring BAC's first.
We kept the pressure on Westberries and we were rewarded with a short corner. An initial strike from Tinny was saved by the keeper and fortunately for us, it fell nicely to Lisa B who calmly placed the ball into the back of the Westberries goal to increase our lead to 2-0.
BAC were in control, switching the play nicely and were soon on the attack again when Liz took the ball down the right and put a ball through to Kingers who drove to the back line. A lovely pull back to Tinny on the P spot and boom 3-0! The half time whistle soon followed.
Westberries came out strong at the start of the second half like we thought they would. They had a run of short corners and converted at their third opportunity. Bish was given an early birthday 'card' by the umpire and was able to have a slight breather on the side line and managed to fit in some extra stretching!!!
BAC's 4th started from the back with a lovely pass from Cheryl to Sally, to Lisa B, to Tinny who, after some individual skill, slipped the ball to Liz who had positioned herself on the left. It was a great strike to the Keepers near side resulting in Liz's second of the game.
Unfortunately we conceded a soft goal right at the end but the match ended in a 4-2 victory for BAC.
A well-disciplined, solid team performance earned us our first 3 points which has given the whole team real confidence. We can now build on this going into next week's game.
Player of the match
votes this week for:
Cheryl, Dave, Maz, Kingers and Sledger
Joint winners were:
Liz – for her two goals, good positional and overall solid play
Sally – solid play in defence & attack and awesomeness!