BAC 2 – Stroud 0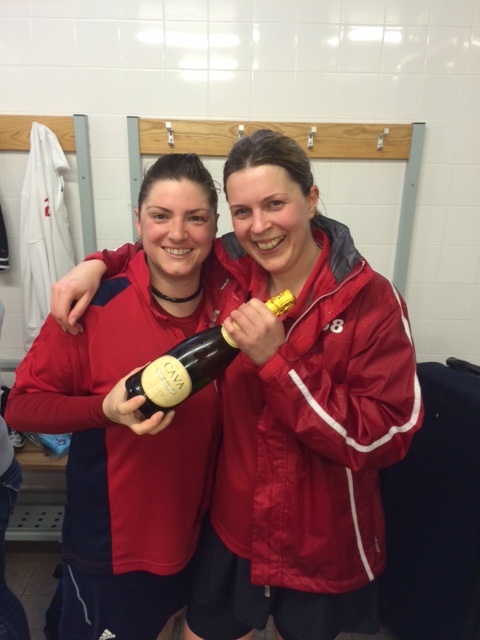 BAC hosted Stroud for their last game of the season in a nail biting battle for those Champions League places in the table 😉
In a game of such importance, BAC supporters were packing the stands this week with the usual suspects, Coxy, Steve, Ruby and more recently (but sadly!) Dave in attendance, plus Kay Garston, Chris King, Sue Price, Alison and Tony Oliver and 'cuz Jamie'!! And so the whistle went….
With the rain descending upon BAC and the unusual event of BAC having first pushback, BAC started much brighter than the weather and ensured early pressure on the Stroud defence.
The first 15 minutes saw the whole team pushing up, with some beautiful passing across the pitch and BAC were certainly in control, but despite this early pressure, the Stroud GK was having none of it! Nevertheless BAC kept pushing and Kingers picked up the ball from the half way line and ran forward, dodging a few elbows, I mean players (!) eventually hitting the ball in to the D to be met by Tinny for a superb deflected shot into the goal! BAC 1 – 0 up!
BAC continued to hold their own, not allowing Stroud too much possession of the ball and some excellent passing from the back, across the midfield and up to the front line created a number of further chances, including a cracking shot by Tinny from just inside the D which flew at the keeper and left BAC all wondering how on earth she could have got to that as well as what indeed did she have for breakfast that morning!!
The half time whistle went, BAC were still leading 1-0 and it was STILL raining. However, our spirits were not hampered by the damp conditions and our supporters were still standing (and smiling!) so all was well. Dave, 'the crutch of the team' managed to slowly make her way across at half time for some well-deserved and well needed jelly babies to keep BAC going to full time.
With the second half in full swing, BAC ensued some early attacking elbows, I mean play (!) from Stroud but the BAC defence held strong and the team continued to battle against the elements and keep pushing for that all important second goal. At last, a short corner won in the second half saw Emma push out to we know who and where to next and so on…..and GOAL….lovely touch by Bish saw BAC take the lead at 2-0!
With 5 minutes to go, BAC kept playing the ball around and keeping possession well and looking to finish in style with our final 3 points of the season…..but hang on, wait a second, vice-captain Tinny wanted more and in looking for her third goal, saw her strike the ball onto the opponents foot…..hurrah, a BAC short I hear you cry, but no it was not to be.
Without saying too much, some uprising from the supporters in the stand, a protest but to no avail, a green card was shown for '….not playing in the……' oh whatever, it doesn't matter now! What's more important is that the whistle then went and BAC were WINNERS…now to the pub to eagerly await the scores coming in……but hang on a minute, before that, it wouldn't be right to let the season end without some celebratory fizz for all and a huge three cheers to all in the team for a superb season all round…well done ladies!!
Turns out BAC finished a very respectable and impressive 3rd in the league (and above you know who eh Becks!!) – absolutely cracking stuff, amazing scenes and more fizz indeed!
MOM this week went to:
Joint 3rd: Sally and Liz
Joint 2nd: Lisa, Cheryl, Tinny
1st: Bish………….'…She's Karen Bishop….she's man of the match when she wants…'!!
Interesting match stats:
Highest attendance all season
No defensive short corners conceded for the whole game!
This week's best quote also goes to 'Mad dog' who kept calling the Police 'COPS' and everyone loved it…..please don't go Maddie!
Ooooooh BAC ladies :o)