BAC2 vs Wick 12/06/13 Lost 7-2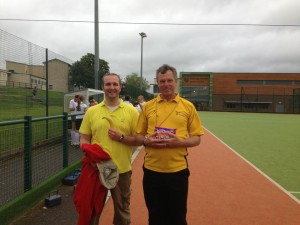 It all started off so well, it was raining, the hardy ladies of BAC2 looked strong and took only a couple of minutes to put the ball in the back of the Wick goal.  The young ladies of Wick looked a little surprised and still not happy that it was raining.
All the indicators were good and if the first few minutes were anything to go by, I thought there was a thrashing on offer.  How right and wrong I was with this assessment.
Within 2 minutes of going a goal down, Wick sprung into action and fired in an equaliser.  Minutes later Wick were 2-1 ahead, now it was looking like it was going to be a high scoring game with both teams attack making light work of the opposing defense.
Wick started piling on the pressure and won a few shorts and fired in another couple of goals 4-1 to Wick.  The gloves came off at this point, literally.  Keeper Kay was flinging her gloves, stick and helmet across the backline in frustration.
At the point BAC2 were 5-1 down with 5 minutes to go the team were able to penetrate the Wick defenses and score a second goal, captain Sophie cheered loudly.  The ball was reset and Wick went back to their old ways of putting BAC2 under pressure and thumping home 2 more goals for good measure.  If memory serves, goal 6 was struck hard by Wick from outside the D, it flew straight at goal where Lou obligingly clipped it with the end of her stick to make it legal.
The whistle sounded, the score was 7-2 to Wick and almost all the BAC2 players said something to the effect of "I'm rather pleased the game is over".
Despite the result the team was able to smile about being outpaced by a very young, fit and athletic team.  The umpires were paid off with chocolate bars for the Wick umpire, a banana for the BAC2 umpire.  Hmmmm…..perhaps there is a correlation between the scores and the quality of the umpire bribe.