Daily Archives:
October 6, 2012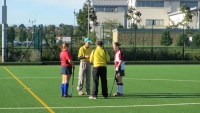 A sluggish start from BAC2 meant we were 0-3 down after 20 minutes.  We warmed up eventually and started to put a few in the back of their net, but they also continued to put some past us.  Overall result, we lost 6-3, here are some photos from the match.
It was a beautiful sunny autumn day but unfortunately in the first half BAC were anything 'but' and we found ourselves 1 – 0 down. Enough said!
After a tough half time team talk the game restarted and it was like chalk and cheese – a completely different BAC side came out for the second half. Seconds from the restart saw us awarded with a penalty corner through some positive attacking play. A strike from Liz found Lor in a perfect position to slot home the equaliser. No sooner had the umpire blown the whistle for the restart BAC had taken the lead by a neat reverse stick shot by Lisa (Doug's training paying off!!).