Cirencester v BAC 10/11/18 – Won 2-1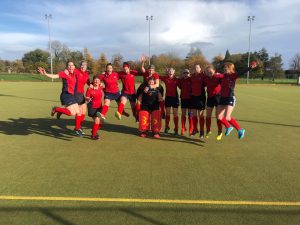 Written By: B.I.S.H
Off the BAC gang went to Cirencester for a top of the league clash.
We all congregated at the Big House and were met by a lovely lady on reception who gave us some helpful tips with regards to the history of the Agricultural college.
Once we were on the pitch, we did a good warm up in the sun.
Both teams then positioned around the centre spot for the respectful silence for Remembrance.
Then off we went, Cirencester started brightly and attacked us high. However BAC's defensive work was awesome with Becky the Bullet making important saves to keep us in the game.
Unfortunately the sunshine we had at the start was superseded by a massive hailstone storm and the game had to be stopped for a few minutes whilst we all huddled together for shelter.
The game restarted and BAC had a break away and Tinny had the ball outside the D and with a shout from Bish who found herself in the D, Tinny smashed a ball to her and Grandma shark Bish manage to deflect the ball towards the goal to get a deflection from the Cirencester defender ………….. boom back of the net. 1-0 BAC. Then not long after BAC were awarded a hit outside the D and Sledger passed to Bish who fired it into the D for Tinny to get a lovely deflection on the ball to send it flying in the back of the net ……….. boom 2-0 BAC, just as the half time whistle went.
After half time Cirencester kept attacking the BAC defence and they held strong, until they put the ball in the net. Well Cirencester now were applying more pressure on the BAC defence but again they held strong. Cher comment was it's like the Alamo as they keep coming at me. The captain made the call so we all followed this and re-grouped to hold strong. Amazing stuff BAC held out for a well-earned 3 points.
MOTM
2nd Grandma Shark Bish
3rd Red
4th Wooller & Cher