Cirencester2 v BAC(06/10/18) Result: Win – 1-3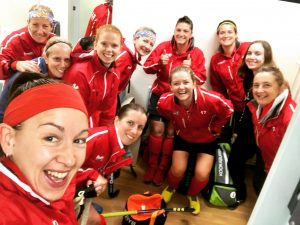 Written By: Chez
So this week we travelled to Cirencester to play their 2nd team
We were without Becky the bullet and Dave so lucky for us we had PJ..she's only 21!
After a meeting in the toilets to warm up and have a team talk we all took the long walk to the pitch!!
It was wet and cold but we were all ready to start and as soon as whistle went BAC went for it creating lots of chance, playing some good hockey and putting Cirencester defence under pressure!
Finally the pressure told and after a scramble following a penalty corner, WP got the final touch 1-0 BAC then soaked up some pressure and after some good defending keeping them out, they got a penalty corner after ball was lifted at Sledger who was down for while with the pain, they scored from this but nothing we could do as was a great strike!
The game went through a messy patch and both teams had more chances but with near misses by BAC and a great save from PJ which she can't remember and more good defending the score remained 1-1 at half time..
After a good team talk and positive comments from everyone 2nd half started and BAC played some good hockey, good passing and moving from Bish and Lizzy in the middle helped to create more chances, Lizzy G passed to WP who found Tinny who scored ,great finish and 2-1 to BAC.
BAC finally had the upper hand and Sal was fighting so hard to win the ball that she got a warning from the umpire and captains were called over.
after the restart Cirencester had a few attacking moments but again defence held firm with good saves from PJ and good tackles from WP, Cheryl and Maz.
From our own 16, Cheryl found Maz, who found browner who found tinny who scored . 3-1!
Cheryl stopped an attack by nearly being kneecapped by a lifted ball..it hurt but apparently ball was not hit that hard !!!!!!! ( I beg to differ )
Last 10 mins and BAC played well, good controlled play. even when Cirencester had few penalty corners at the end BAC defence stood firm and cleared any danger Final whistle went and 3-1 win to the mighty reds of BAC!!!!!
We then had to travel for showers where Tinny and Sal found their kit bags were not waterproof so just as well they were off shopping after the game !!!
Teas were at the pub so another walk but greeted with a pasta dish
This week player of match was Woolley , joint 2nd was Cheryl and Maz and 3rd was PJ…