Royal Wootton Bassett 6 – BAC 4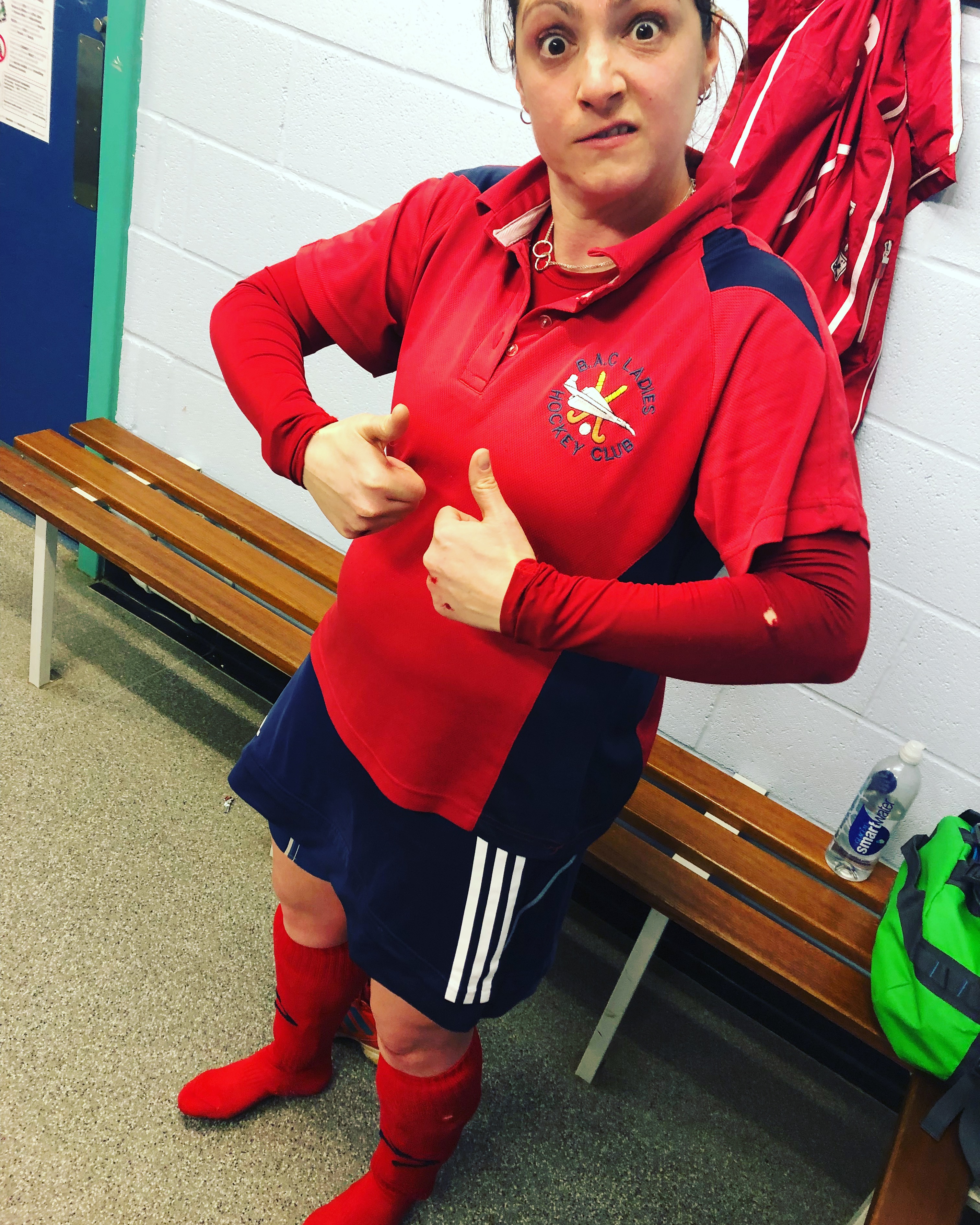 Written By: Sally 'Londoner' Curnow
Waking up in South Kensington was by far the strangest start to a hockey day! So after a taxi, a train and a drive Tinny and I arrived at Royal Wootton Bassett (RWB) – 10 mins before everyone else. #bragging. Anyway, the dreary grey day was not stopping BAC, who all turned up in good determined spirits! So after a warm up and a look on in envy as we watched them move their goals with ease, we were ready to start!We came out of the blocks fast and attacked well, but RWB quickly broke back, got awarded a short corner and to be fair it was a cracker of an unstoppable shot and they scored. 1-0.
BAC continued to attack, with some great link up play between the defence and midfield to keep the ball out of the D. Unfortunately RWB pressed hard, and despite some tight marking and defending from Maz & Dave at the back, they got a sneaky deflection. 2-0
BAC were determined to fight back, and upped the attack and pace. Bish making some pressing runs up the pitch and linking up with Sledger and Liz who fed the ball into a waiting Kingers, Tinny and Red. A ball from Sledger into Tinny saw Tinny clear through on goal, but was then 'wildly attacked' by the keeper who took her out. Flick awarded.
Tinny stepped up – Flick! BOOM! – 2-1
This was just what BAC needed and we continued the attack on goal, however when RWB did break, they used a tank, which took poor Dave out, by take out I mean literally got lifted into the air and then swan dived and landed full force face down, resulting in a very painful thigh injury and a rendition of the bolero from Bish!!
The tank continued attacking BAC resulting in Bish & Sledger getting a battering. BUT we are BAC and one thing we are good at, fighting back, but with our hockey. We upped the pace again and beat the RWB defence, the attack pushing forward and creating chances in the goal, after melee in the D with Brownie, Tinny and Red saw a attempt on goal stopped on the line by a RWB foot. Flick.
Tinny stepped up – Flick! BOOM! – 2-2
BAC fired up and raring to go kept the attack going with Cheryl, Sally & Bish in midfield working hard to press forward and tracking back where needed. Our forwards were doing all they could to get another goal, but time ran out and it was time for a rest.
HT
Fired up and wanting 3 points BAC started where they finished off, keeping the pace up and attacking the D. This saw a one two between Sledger & Bish passed into Tinny who struck and SMASHED in a goal. 2-3
BAC continued to own the 1st part of the 2nd half, and after more impressive team play, Tinny received the ball in the D whilst diving in and scored. Maz liked the "quite good diving one". 4-2
What happened?? I'm not sure what it was, BAC tired and RWB attacked. Literally seeing several of our players floored, by the tank. So many cuts and bruises for all the squad. Mainly on Tinny, who for the latter half of the 2nd half saw her slotting into the inner position attacking and defending like a boss, and became a target receiving a whole in her sock, base layer, elbow, knee and both hands!!
BAC continued to be battered in defence, but Becky saw off a number of shots and Maz and Dave did all they could in defence to keep them out. However. BAC were tired and battered, and bruised and RWB managed to break through the team twice to scored two more goals, despite our best efforts to keep them out. 4-4
The tank reappeared and decided this time to take out Red, who went flying, then into Sledger for a final smashing, for a non contact sport, there was a lot of contact! Which is what we all tried to tell the umpire, but unfortunately he only heard Dave and she was green carded! Unfairly. Luckily though, the player in question was also carded.
RWB then got two more goals, one short corner and another in open play. Leaving the final score 6-4. Which left the many spectators stunned, with several of the oppo spectators saying and I quote 'You should have won that' and 'wow what a game'.
BAC do feel robbed, but also very sore and very battered.
MOTM
1st Tinny x9
2nd Chez, Becky and Sledge