BAC 3 – Blockley 7 12/10/13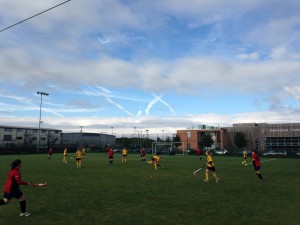 Written by – Maz Wilson
The day started with a slow constant drizzle, which was more like the hockey days of old… Today's match was against Blockley, who BAC had not encountered before, so spirits were high with the prospect of playing a new team.
Things started strangely as Liz tried to knock herself out during the warm up quickly earning herself the 'silly sausage of the day' award. Things got underway and before BAC knew it the ball was in the back of their net. Not a good start but all was not lost as Blockley's goal was disallowed for an earlier infringement. BAC, now awake, livened up a bit but not enough to stop Blockley putting it in the net again. BAC, now wide-awake, piled on the pressure but Blockley were dangerous on the break, keeping goalie Becky very busy. A short for Blockley was converted but the strike was too high so another goal disallowed for them, their next attempt was more successful, 0-2. Blockley continued to capitalise on their breaks and before BAC knew it was 0-3 and half time. Least it had stopped raining and the sun was shining.
Tactics were run through at half time but it didn't really help as Blockley were on fire and soon made it 0-5. More support arrived on the sideline for BAC which seem to help as before we knew it BAC got a goal back through some nifty moves from Tinny. This fired up Blockley some more who quickly made it 1-6, won some more shorts and made it 1-7, BACs chances were looking slim now. Despite the score line BAC battled on with some moves of skill and determination from Maz and Liz a pass to Tinny and another goal 2-7. All is not lost! Another goalmouth scramble and a flick to BAC was awarded which was calmly put away by Tinny 3-7. If only the match was longer BAC may have made up the deficit, if they didn't all collapse with exhaustion that is!
Man of the match went to Maz for her gritty determination in the face of adversity.  Bish came a close second with mentions for Lisa, Debbie, Tinny and Becky.
There was strange goings on in the pub involving Cheryl and a sausage, which appeared between her legs, the less said about that the better.
Poor Katie had a fat lip, which wasn't going to make her look her best for the night out she had planned!