Match Report ~ Thornbury 2 vs BAC2 1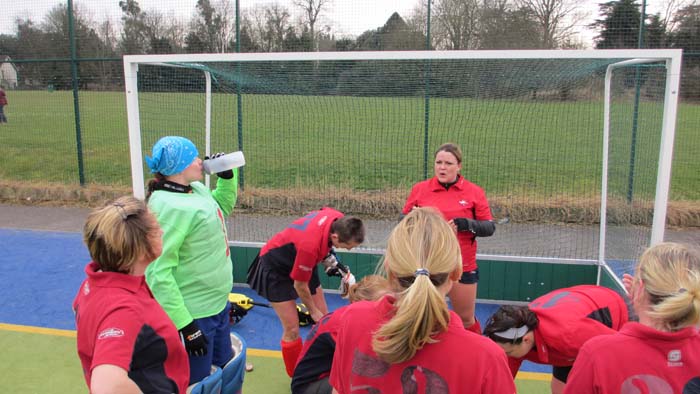 Turning up to a freezing cold Thornbury pitch all the players knew that this would be a tough match, Thornbury had convincingly beaten us on the previous 2 encounters.  Optimism was very high though and even as Capt Ceri read out the players names and positions, everyone cheered each name as if they had been nominated for man of the match.
With the positions announced it was time to run onto the pitch and start warming up, despite the high spirits only Ceri had any physical "get up and go" at this stage.  Thornbury looked fighting fit and ready for action, probably something to do with the fact they were stretching and warming up for the previous 35 minutes.
BAC2's first objective was a simple one, avoid conceding a goal within the first 2 minutes, 3 minutes into the game it was mission accomplished.  From the start Thornbury were putting BAC2 under a lot of pressure and Kay was having to make some good saves.  The supporters stands were filling up nicely at this point with 6 supporters as several of the first team started to turn up.
As the first half progressed BAC2 were playing well and with a lot of confidence.  We had Kay diving left, right and centre in goal, Fran, Griff and Leanne were belting the ball forward from defense to keep Thornbury out of our D. Midfield had Mandy, Carrie, Cheryl and Ceri getting tangled with some fast and skilled Thornbury players.  Upfront Beezy and Ali were on hand to attack the Thornbury D.  Hammy was also one of our forwards, but she has a talent for being just where and when you need her regardless of the position.
With 8 supporters now cheering on BAC2, it was getting late in the first half and they hadn't had a shot at goal.  This was to change when a long ball found it's way through to Ali who was running fast but couldn't quite get to the ball well enough to also beat the keeper.  As the keeper smashed the ball clear, Beezy caught it hard on the foot and had to limp off for a moment.
Boosted by this turn of events BAC2 pushed again and this time there was a scramble in the Thornbury D, Cheryl received the ball, she took and shot and our new girl scored!  Some of the crowd cheered but something was wrong, the umpire had already blown her whistle for a short seconds earlier.  The short was set, Carrie sent it out to Hammy, she fired hard and the keeper saved it, the ball bounced out to Ali who fired the ball a second time at goal and scored.  This time everyone cheered and was also a little bit stunned, we could actually win this match.  We all knew we "could" win, but now the team were "feeling" like they could do it.
With half time approaching, the supporters readied themselves for their most important duty, preparing Griffs half time smoke. Moments later the half was over and Ceri addressed the troops. It had been a hard first half in freezing conditions and the players looked worn out, but they were keen to go back for more and seal this victory.
The second half started like the first with Thornbury putting BAC2 under loads of pressure.  They had a few subs, fresher legs and a goal to make up.  Thornbury won their first short of the game and smashed it wide, this half was going to be very hard.
With BAC2 pushing back into the Thornbury half the umpire blew for a foot foul awarding the ball to Thornbury, Hammy appealed and a Thornbury player joined her to confirm that the umpire had made the wrong call.  Not the first time that day a BAC team had witnessed great sportsmanship from their opponents.
End to end play followed and Griff was starting to find the pace hard as she rolled out a long list of medical issues she was experiencing at that precise minute.  Dr Sally calmly advised Griff she was most likely suffering a heart attack.
In one attack Ali ran the ball up to the Thornbury D and Hammy fired a shot that went wide, Hammy then appealed a foot foul.  From the stands it appeared that Hammy was now making up appeals which amused us greatly, later she explained that her shot was deflected wide by the keepers foot which Mandy confirmed.
The response from Thornbury was to run the ball straight up to the BAC2 goal and equalise. It was a disappointment to all but we were still playing well and could score again for the win.  Sadly within a minute of scoring Thornbury had possession again and raced another goal in from a tight angle.  The players looked like they each took a punch in the stomach, they knew that there was only a few minutes left on the clock.
Despite valiant efforts BAC2 couldn't get another shot at the Thornbury goal before full time was called.  All the players came off feeling very down, they had played hard in the bitter cold, they were every bit equal to the Thornbury team and deserved to lead most of the game and a victory would have been well deserved.  Hopefully the player will later reflect more on how well they played as a team and how far they have come during the season.
Teas were served in the Knot of Rope and was pizza and chips with the England vs France rugby game on the large screens for pudding. There were man of the match nominations were for Kay, Ceri  but it was Carrie who took the title.