Match Report ~ BAC2 1 vs Redland 0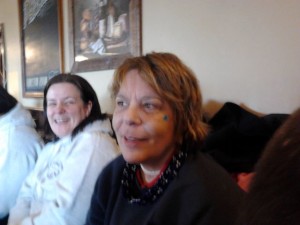 On arriving at the match (fashionably late) there was something odd about the Redland formation I couldn't quite figure out until BAC2 went on the attack, then it became obvious, Redland were not fielding a keeper.  This explained why BAC2 spent most of the fist half desperately defending, as Reds were a man up in the attack.
The format for the first half was very consistent, Reds would spend their time in the BAC2 belting the ball at goal, there would be an occasional break by BAC2 which was then repelled at the centre line by Reds shouting "Hold the line".  The Reds defense were annoying effective at holding the line.
2 minutes before the half time whistle BAC2 managed to break the line and went steaming into the Reds D which made a nice change.  It was Spicer who broke the deadlock and scored putting BAC2 1-0 ahead.
The half time analysis involved lots of puffing, some panting and some discussion about tactics, but all done with a sense of optimism and relief thanks to the very recent goal.
The second half could be summarised by saying "See first half".  From the starting whistle Reds were all over BAC2 and all the action was in the BAC2 D.  The few breaks we made usually got turned around by the half way line.  Reds were still fielding no keeper and for most o the game had a lone defender in their half hovering around the 23m line.
As it was effectively a replay of the first half, there was a late break towards the end of the half but this time it was Ned who fields the ball across the line.
Full time was blown and the team were very delighted.  The BAC2 worked hard throughout and managed to keep Reds at bay, this was also the first clean sheet for Keeper Kay and she was especially pleased.  Reds played a tactic that could have easily won them the game due to the amount of pressure they put us under up front, but our few opportunities exploited their absence of a keeper.  It was a tough and well played game which could have gone either way.
Back at the Parkway, curry, rice and poppadoms were the best teas in the leagues serving.  All the players and officials present were awarded a commemorative sticker.  Man of the match nominations were for  Griff, Leanne, Cheryl, Kay, Ceri, Spicer, Carrie and Ned highlighting the team effort. The winner was Ceri.