Match Report 15/09/12 BAC 4 – 2 Weston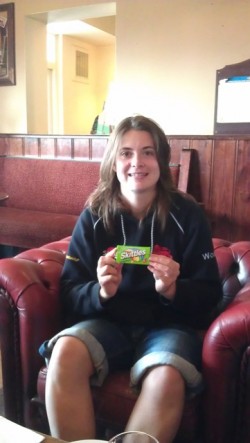 After a slow (and predominantly hungover) start to the season the week before at Clevedon, BAC were looking to use this friendly against Weston to kick start the season and get in some practice using the new 4-4-2 formation. Despite preparations being interrupted by everyone subbing on for the 2nds game and new goalkeeper Becky's dramatic coughing fit, BAC started well.
After 10 minutes of play, the only complaint that could be made was that BAC were too quiet but that was mostly down to the surprise at how well the team were executing the famed triangles! The only thing missing was a goal and Weston's goalkeeper was making it difficult for Tinny and Lor to finish off a number of promising moves. Weston caught BAC napping on the break from a BAC short corner to sneak a goal against the run of play. Just before half time, Weston pounced on the break again and made it 2-0. BAC heads started to drop.
Cue rousing team talk from Rachel Oliver at half-time and BAC started the second half brightly, only to get pinned in
their own 22 defending a series of Weston short corners. Before long, Lor had pulled one back after some neat interplay in the D and Tinny converted a short corner to draw level with Weston. BAC were on the ascendency again and a series of drives up the right wing by Lisa and Katie put the Weston defence under continual pressure.
The ball was threaded through to Tinny whose cheeky aerial across the face of goal was knocked into goal by Lor. The icing on the cake came when Liz drove into the D from the right wing and slipped the ball past the keeper to make it 4-2. It was a very well deserved win for BAC after a great comeback in the second half.
Player of the match went to Katie who had a crash course in defending and who took so long to write the match report she forgot who else received votes (sorry)!
Quotes of the game: sadly this week's quotes are too X-rated to be published but if you want to know more, ask Lisa for information on the perfect Saturday morning warm up (some firefighters were involved)!