BAC v Westberries (13/10/18) Won – 3-2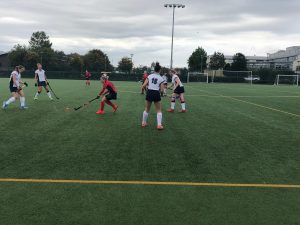 Written By WP
As Storm Callum rolled in, BAC were ready and raring to go against Westberries. It was great to have PJ along to support….having arrived in her Jaguar (can someone arrange for Brownie's eyes to be tested?!).
It was a fairly even game with lots of chances for both teams. Dave was the hero of the first half, making two great saves near to goal (including a one-handed one).
BAC then broke the deadlock from a short corner, when Brownie (or should that be Iris?) made sure that the ball got over the line following Red's shot.
The game remained close and Westberries scored a cracking goal from a short corner. But it was BAC who hit next with two more goals. The first was following a neat ball in from Brownie and a powerful finish from Tinny. The second saw great interplay between Tinny and Red, a move finished off by Red.
Westberries scored a second goal with a few minutes to go, but BAC defended well to win the game 3-2.
It was then back to the club house for amazing teas – Maz's pulled pork baps and Liz's rocky road.
Player of the match votes were in and the results were:
Joint 4th – Cheryl and Tinny
3rd – Maz
2nd – Liz, for getting low low low
1st – Dave