BAC 0 – Blockley 8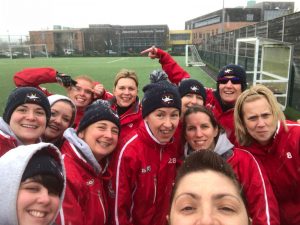 Written By: WP
This week BAC welcomed both Blockley and the mini-Beast from the East. Our warm up was carried out right in the middle of a blizzard (the author may be using poetic licence here) and we enjoyed the picturesque scenes as the snow came down. 
Then we played a game of hockey, the highlights of which were:
1) That point in the second half when the biting wind slightly improved and we could all finally feel our hands. It was beautiful.
2) Sally's dance and singsong after she was hit in an unfortunate area.
3) Some very slick play from Blockley, who scored some lovely goals.
Then followed some much needed hot showers and then teas courtesy of Cheryl, Bish and Maz's carrot cake.
Player of the match was Ronnie, who won everyone over with his wheely chair games and enthusiasm for an early easter egg.
Bish was the winner of the cup and the cocktails (probably best not to let Ronnie have those cocktails quite yet), with Chez and Red in second and Liz, Sledger, WP and Kingers sharing third place.