Monthly Archives:
October 2013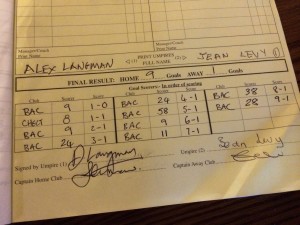 Written by – Kay Garston
With a convincing win from last week's friendly in Weston Super Mare BAC were ready to carry the winning form into the first league game of the season.
The majority of the team managed to turn up at our home pitch an hour early apart from Woollie-Pulley who gave the poor excuse of trying to locate her skirt! BAC warmed up with vigor and enthusiasm and were determined to start the season off as they mean to carry it on… with a winning attitude.
The Pretty One's pre-match talk welcomed the seconds goalkeeper Kay temporally into the team. And with the warm welcomes and banter over with the team took their places on the pitch to face their opponents.