Devizes v BAC (26/03/22)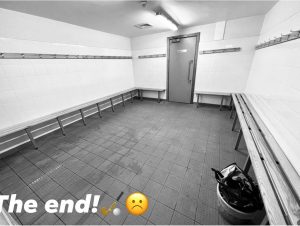 Won 1-3
Reporter Maz absent – Learning some more magic in the US of A
So we made this up
Early start
Sunny day nearly had a few wild wees
B A C not BAC (pronounced back)
Joey got a new hoody
Tinny DOD for forgetting balls
Joey may have been right to check the gate
Holly turned up in the right kit
SLW beat land speed record
Lizzie drove past Tinny & Sal's
Cheryl had the sicky vibes
Meg got accepted into Southampton
AND THEN the game started (this has been pieced together at teas/ over coffee in a farm shop)
We started off well – obvs
Sally got smashed in the ear/mastoid (not her head)
Holly got hit in the face (didn't ruin the money maker)
They scored from a short conner- whatever
Then we got better
Sledger took it up the middle – standard
BAC essentially owned all the play from then on.
Amazingly everything Coach Chrissy taught us came together
SLW – had an assist, well sort of, umpire said no.
We all got super hot, pitch temp 30 deegrees
Holly & Blockley bossed the middle and didn't let them break (well not all the time)
Cheryl took no s**t in the D and saw to business
Did we mention Alaina (Joey) got a new hoody? No? Oh…contact her direct if you want details.
So many shots saved, their keeper was on fire
Lizzie played against Lizzie and that confused us all
THERE WAS ANOTHER SALLY
BAC short corner awarded – all prepped
Out to Tinny, boom cracking strike back of the net
Half Time
BAC started second half strong and piled on the pressure.
Meg, Joey and Cher were fierce in defence and kept any advances out
SLW not allowing anything in her D (Whilst politely winding up the oppo )
45 mins in cracking ball out from Alaina, up to Lizzie in to Sledge into to D for Tinny to pick up and smash it home 1-2 (supported by a willing Sally waiting for a pass )
More amazing team work – and this may sound cheesy, but literally we worked so bloody well, making Megs Mum so proud
We kept most of the possession, essentially hogged the play.
Devizes did break, but Holly, Blockley & Sledger worked as a triangle of terror and kept picking the ball from them!
Blockley did a VERY DANGEROUS Ariel into a big crowd (the crowd was Tinny)
BAC continued to boss it, some cracking play down the right with Kingers and Sal was possibly the best play of the game, but we don't want to brag…
60 mins Ball worked into D and another short corner won
Blockley up for the drag – dragged in to Kingers (who said to Sal going in on the keeper!) was on the keeper and smashed the ball home for our 3rd 1-3
The crowd (Megs Mum) went wild
We held strong for the final 10 keeping them from penetrating our D!!
Final whistle and BAC1 had done it!! 1-3 win very a well disciplined Devizes team that gave us a really good final game and made us run in the heat.
From a dodgy start to the season, we proved that training works and that Chris is one hell of a coach. We pulled our socks up and came back, we'll take 4th and we'll take it like we've been promoted. A bloody good season, signed off with a cracking display of hockey. Emotions high….but for all the right reasons!
Other things to mention, we played super fancy passing around the back, cracking paced balls, didn't get intimidated by their average age being 16 or the fancy pants school with OUR OWN CHANGING room. Oh and Joey got a new hoody AND we missed Maz doing the match report, getting stressed on the sideline and taking action shots
Oh and…Sexy Lucy tried pissing having copulated 20 times – fact. (This is how you learn bones in the hand) – BAC Schooling.
That's a wrap
BAC1 over and out
Player of the match:
1st Blockley
2nd Holly
3rd Liz,Cheryl,Meg &Tinny
P.s. Blockley never opened the Milk Tray
P.P.s Happy Birthday tomorrow Briony we missed you