Redland UWE2 8 – BAC 3 22/10/16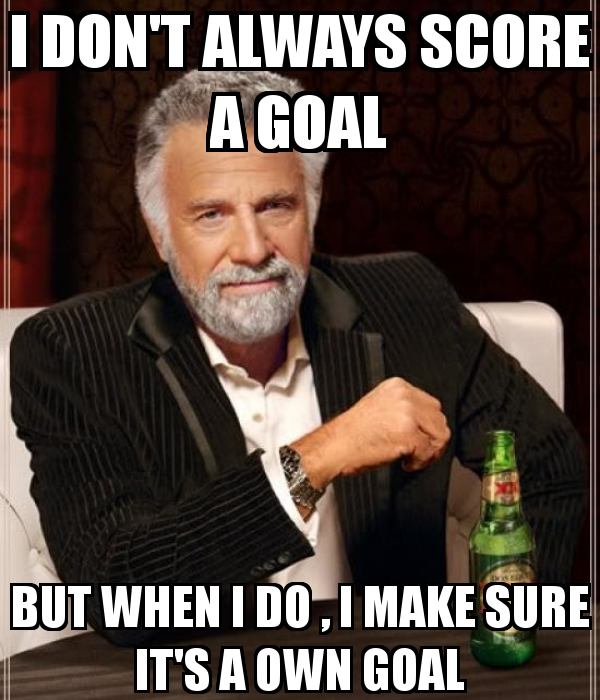 Written By: Captain Tinny
An away trip to the stadium of Redland UWE was in the cards. After a staggered arrival due to a few getting lost (!) and a trek to the pitch area, we warmed up and all watched Coxy break the main rule of not staying in the spectator area and going onto the side of the pitch before the end of the previous game!!
Just as we got into the warm up, we were treated to a watering of the pitch, and then it was all systems go…. or not!!
Redland UWE got and early goal, despite some good BAC pressure around the pitch and breaking down of their moves. A few moments later, having kept our peckers up, with a lovely bit of attacking play through the middle from Sledger who then passed the ball to Tinny….and the rest…. well let's always remember that as the goal that people want to see over and over again!! 1-1.
The game went a little scrappy with possession being lost on either side, not helped by the bounce of the pitch we struggled to get our heads around…. a bit of play from Redland UWE and we were 2-1 down…. which was soon to be 3-1. However, we kept going and working some 1-2's around the pitch and with some lovely spreading of the ball, we attacked with a ball in behind the defence which expertly fell to Tinny with her back to goal, and the BOOOOOM. In came the keeper and down went Tinny. FLICK!! It's was shortly 3-2 and everything to play for.
HALF TIME
Then came the second half….it was warm, I think the sun even came out, we conceded a few more goals, Coxy expertly saved a flick given for a foul in the D, Sally got savagely felled and winded by an elbow, and Tinny scored a late consultation goal for the final score of 8-3.
Congratulations must go to Sledger, Dave and Maz, for they all scored an OWN GOAL….the top finishing award goes to Maz for scoring with her boob!!
Onwards and upwards to next week.
MOTM:
1st Tinny 'Hatrick' Oliver
2nd Sledger
3rd Sally & Dave #dreamteam