Team Bath Buccaneers Veterans Tournament June 15th 2013 – WINNERS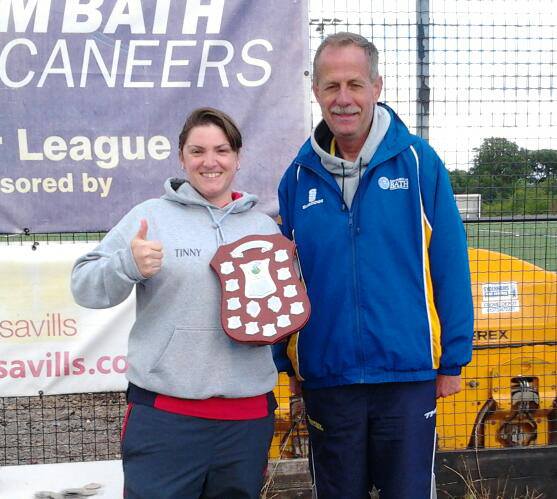 An in-depth report by Sally Curnow…
When Tinny & Sally turned up to Bath University at 9am, it was them and one umpire! With the way things had gone with the previous weeks summer league fixture and a lack of opposition, they were a bit worried, then after a weird answer phone message from Kay and a little bit of waiting time, the rest of BAC Vets Team turned up! Then eventually and way before the game started other teams turned turned up! Phew, crisis adverted!
10:25 Game 1 Bath Buccs V BAC – Lost 1-0
The general consensus of this game was that 'we were robbed'. Which we were, we did however , on the back of this, make a game plan for our next game, which was to keep the ball more, score more goals than the opposition and take Sophie 'Chopper' Newton's axe off of her and replace it with a hockey stick!!
11:15 Game 2 Mendip V BAC – Won 0-3
Goal Scorers: Lor, Tapper and Tinny
We were on pitch 2 for this game, and for those of you that were not there you need to know that pitch 2 is actually a trampoline, terribly bouncy.  In this game Tinny bless her hit the post twice, seemed the ball was playing mind games with her, she eventually got it between the sticks!  Lisa spent her time making sure Lor didn't fall asleep and was ready to catch her, Becky made a Victoria sponge as she had nothing else  to do as all the play was in the Mendip D and Sally had a bizarre incident where a Mendip player grabbed at her stick during a tackle!!
THE BREAK
Our next game wasn't until 14:10 so we used our time wisely, we had a spot of lunch and decided it was only right we cracked open some cold beers, we presented ourselves with the trophy unofficially, we went through several weather patterns of sun, rain and wind, we moved camp, we bought coffee's, Sophie marked some tests, Maz judged a few varieties of Jaffa cake, Sally was first responder to Leanne's Chris's 'ballinfaceloosingtooth' incident Leanne turned up with her bulging disc, Lor had one of her famous power naps,  Sally learnt what a darb was and Tapper tried to steal Cheryl's gloves!!
14:10 Game 3 BAC V Yeovil – Won 2-0
Goal Scorer: Lor x2
We came out of the blocks for this game and we were all prepared for anything, well apart from Maz, Maz had a moment where she forgot what she was doing  and where she was and decided to meander around the pitch, would have been ok, if the Yeovil defender hadn't just done a superb aerial shot which the 10 other BAC players noticed, Maz looked baffled and startled as we all yelled in unison 'MAAAAAAAAAaaaaaaaaaaaaZZZZZZZZZZZZZzzzzzzz' as the ball was heading her way! Some great midfield play from Bish and Tapper in this game and Cheryl & Trixie in defence kept running the aerial balls back up to the forwards. Quality game to watch, with some great play, apart from Maz who caught the ball with her darb and pointed so we could all see then she  proceeded to whoop when she realised she had won the free hit!! Oh Maz!
15:25 Game 4 BAC V Cirencester – Won 2-0
Goal Scorers: Lor & Sally
The running theme of the afternoon games were the other teams demanding a particular end to the pitch, namely the one we had chosen! Not ones to be told what to do or when, BAC decided to smash them. All the play stayed in the end they had chosen, Kay caught up with some reading in goal and Trixie, Cheryl and Maz played eye spy! Meanwhile up front not only did Sally and Lor score, but Tinny was attacked by a grunting player!! Weird 20 mins.
16:15 Game 4 City of Bath V BAC – Won 2-3
Goal Scorers: Lor, Sally and Lisa
Now this match was our first change of kit, white shirts donned (Tinny is still complaining as I type about this) we were ready to go, we got to choose the ends, which broke the mould of the afternoon. City of Bath came out a little complacent as they had been doing well all afternoon. Well SURPRISE CITY OF BATH, BAC want their trophy back! A tough game they gave us but we had the lead from the start with some cracking goals, they did score but we don't want to talk about that!! A great game with some cracking play from all of us!! Comment of the game after Lor scored 'See I'm not asleep now'
As our last game came to a close, there were mutterings (yelling, I mean yelling) from BAC that we had won the tournament, we waited while the independent adjudicator used his abacus to add up the incoming scores, BAC on 22 points at the top, Bath Buccs on 13 with a game to play!!They had to win their game by 7 goals (3 points for a win a point for each goal scored).  There was excitement and anticipation in the BAC camp, much to the disgust to the frosty Bath Buccs players. So the game took place, 20 of the longest minuets of our lives, Maz's pink watch (not a euphemism) was counting down for us……Bath Buccs only managed to beat Mendip by 1-0!! WOOOOOOOOOOOOOOOOOOOOOOOOOOOOOOOOOOOOOOOO WE WON THE TOURNAMNENT!!
Please check out Facebook for our new BAC chant altogether now 'Oh BAC LADIES, OH BAC LADIES' Lisa will drum to help you sing along!!
We congaed to get our medals after cheering on Captain Tinny as she collected the shield – Officially this time!!!
FAN F'ING TASTIC day!! Well done you oldies!!