Match Report ~ Old Bristolians 5 vs BAC2 2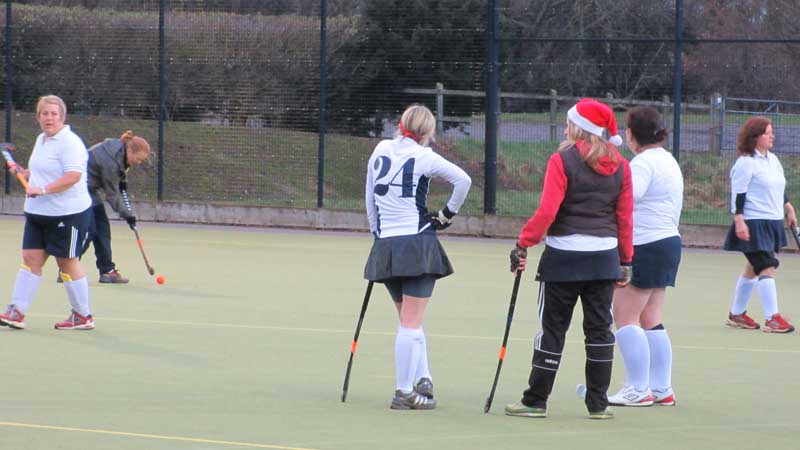 This match was the rescheduled game previously cancelled due to a frozen pitch.  The players gathered in Failand for a mid afternoon start and it was already starting to get dark.
Pre-match preparation involved circling the area repeatedly looking for a parking spot, dressing up in winter hiking gear to make the long journey cross country to get to the pitch and finally organising search parties and sending out scouts to look for our umpire.  For those who have not had the pleasure of an away game against OB's, the pitch is in the middle of nowhere and if it's cold, dark, raining and your team Christmas party is later that evening, it's hard to get excited about the game.
There was 2 concerns regarding the kit for the match.  The first concern was the fact the OB's home kit was a perfect cross between the red and blue of the BAC2 home kit and the white and blue of the BAC2 away kit.  The second concern was the Leanne's kit was damp, unwashed and at the bottom of her kit bag, exactly where she left it at the beginning of the season.  After a 10 minute airing, both Leanne and her kit agreed they were ready to play.
Video: Warming up.
2 Sticks had managed to secure the services of another ref until ours appeared so the game was ready to start, as was the rain, chill and the dark.  Apart from the weather everything was looking good for BAC2, no reports of hangovers, a couple of subs, several supporters and a "can do" attitude.
So the whistle blew and both teams got off to a fast start.  Some great passing from both sides and end to end play from the first minute, we were geared up for a cracker of a game.  A few minutes in and it was first blood to OB's, OB's 1 – BAC2 0.  A quick reset and BAC2 set out to quickly make amends.  Sadly BAC2 lost the ball and within 2 minutes of the first goal, OB's scored again, OB's 2 – BAC2 0.
WARNING: THE FOLLOWING VIDEO CONTAINS SCENES SOME VIEWERS MAY FIND DISTRESSING
The team of BAC2 may have looked a bit disappointed but it didn't affect their play which was still fast, crisp and full of good passing.  OB's weren't slacking off either and gained a short corner, goal 3 to them and by now BAC2 were starting to look a little miserable.  Both teams won short corners which were wasted and Gosling made a great run from the 23m line and tried to walk the ball in only to be denied by the keeper.  Half time blew and the score was OB's 3 – BAC2 0.
Post mortems were conducted, plans were made, briefings held, water taken on, oranges consumed and a new battle plan for the second half was good to go.
BAC2 seemed revitalised and dominated the early second half, lots of pressure put on the OB's which they fended off.  OB's started to push back and some great work from the BAC2 defence and great saves from Kay in goal prevented OB's from scoring.  Eventually a great run from Ali led the attack which would see Mandy score our first goal.  OB's 3 – BAC2 1.  The glorious moment was sealed with a Mexican wave from the stands.
The OB' captain became very annoyed at this fightback and her scowl told her team they were expected to up the tempo.  OB's then dominated the game and it wasn't long before they slotted in goal number 4, OB's 4 – BAC2 1.  The OB's captain pumped out her chest and ran triumphantly back to her half with a golden stream of hair flowing behind her…..just a bit annoying.
BAC2 fought back hard in retaliation for this posturing and Ned had a run at goal passing to Gosling at the last moment, she shot just wide of the post.  A short followed moments later and was wasted before Ali took charge and fired in goal 2 for BAC2.  The crowd went wild and Leanne (or possibly her shirt) was heard to say "they do know that we're losing right?"
With moments to go was it too late for BAC2 to stage a comeback and snatch a draw with a couple of cheeky goals?  Of course it was, OB's slammed in their 5th goal to seal the game and the whistle blew a moment later for full time.  OB's 5 – BAC2 2.
No teas for us after the match as we had a Christmas party to prepare for.  There was only time to hike back to the cars, race home to leave the posh frocks on the hanger and grab some Christmas jumpery goodness.