Match Report ~ BAC2 3 v Westberries3 1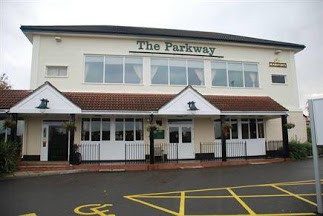 The players gathered, warmed up, had a chat, talked tactics and ran onto the pitch….I assume, as I wasn't there.  Having turned up 5 minutes after the start of the match the BAC2 ladies looked on good form and were dominating the match.
2 Sticks Sophie was pacing the sidelines and looked focused, really focused.  Something was on 2 Sticks mind, this match was more than just another league game, there was a greater significance to this meeting.  Westberries3 were the team who scored an equaliser in the penultimate minute of their home game against us; they were also the team that sealed the occasion with a serving of pink bumholes.  2 Sticks wanted more than a win, she also wanted them to taste our sausage, lick our poppadom or eat whatever it was the Parkway served this week.
After early dominance the flow of the game slipped into an end to end battle with fast breaks from both teams.  Westberries3 made regular attacks but they seemed to lack the conviction of the BAC2 offensives.  Midway through the 1st half Westberries3 launched an attack committing most of their players into the BAC2 D, there was a scramble in the centre followed by a strong Westberries3 strike.  The ball flew straight at Ceri's feet and bounced off back to a Westberries3 player, there was the briefest of pauses before the umpire shouted "play on!".  Was this man mad?  He was playing advantage with almost every player in the D and half BAC2 blocking the goal!  Then came a second strike from Westberries3 and they scored.  It was BAC2 0 – Westberries3 1.  The umpire patted himself on the back and rightly so, it was a great call by him and sadly one that worked against BAC2.
With no subs, 1 goal down and the issue of pink bumholegate to settle, BAC2 did what they do best, settled down, dug deep and came out fighting.  This is where a demonstration of experience began and an opposition crumbled.  The defense tightened up and just stopped Westberries3 attacks dead.  Carrie in midfield was chasing every ball and feeding them into the attack. Hammy first, Mandy second and Ali third slotted in goals to take BAC2 3-1 up lock up the game.
Throughout the match the team were cheered on by the Tiverton posse shipped in courtesy of Ceri.  Sophie also brought along a supporter and potential new player from Backwell.  Few clubs can boast such enthusiastic support from the sidelines, we should consider selling tickets.
Back at the Parkway the man of the match went to Carrie and fine food was served to all.